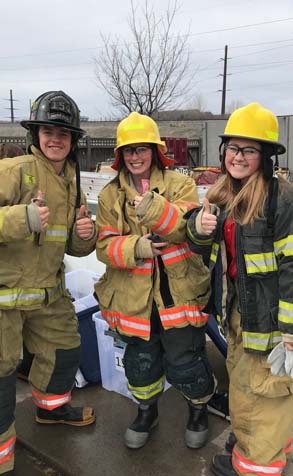 Welcome to Youth Leadership Douglas County!
Youth Leadership Douglas County (YLDC) began as the brainchild of the 2005 Leadership Douglas County
adult class; as its service project, these community leaders set the course for what is now a progressive
leadership development program. YLDC is a one year program for high school students that focuses on
knowledge acquisition around leadership skill development. The classes meet once a month during the school
year for experimental leadership training. The organizers of YLDC strongly believe that no one person can lead
alone. Therefore, we start the year out at a Challenge Ropes Course where we teach students about working
together to establish a foundation of teamwork and they learn about the theme of the YLDC class, I've Got
Your Back. Then, once a month, students actively participate in seminars and activities that engage and educate
them about the community and their place in it. Each month's day-long session explores a different aspect of
leadership in our community with an eye toward building interest in local issues.
While learning about the community, students will develop their leadership potential through active
participation in ropes courses, law enforcement training activities, interviewing with various media personnel,
and visiting with local legislators and county commissioners. Each session offers an interactive opportunity for
personal exploration and growth around such topics as working together as a team, getting in front of the TV
camera, how to handle credit and even how a bit of improvisational skill can come in handy.
The classes run throughout the school year; school attendance on these days is excused, but students are
responsible for any school work missed.
Kristine Turner, Ph.D.
YLDC, Director